Submit Your Waiver Already Signed
When you're getting ready to shoot sporting clays, you'll be one step ahead if you've signed your waiver online. We will need a signed waiver for everyone in your squad. If you have children under the age 18 years old you can simply add their names to the bottom of your waiver. Submit the waiver into the office at your earliest convenience from the website.
Are you looking for a beginner's experience? We recommend shooting the Five Stand or the White Course. These targets are not quite as distant and it's easy to assist your beginner in the shooting stand.
At Walker River Resort, we match you to the perfect shooting stations, we want you to enjoy yourself.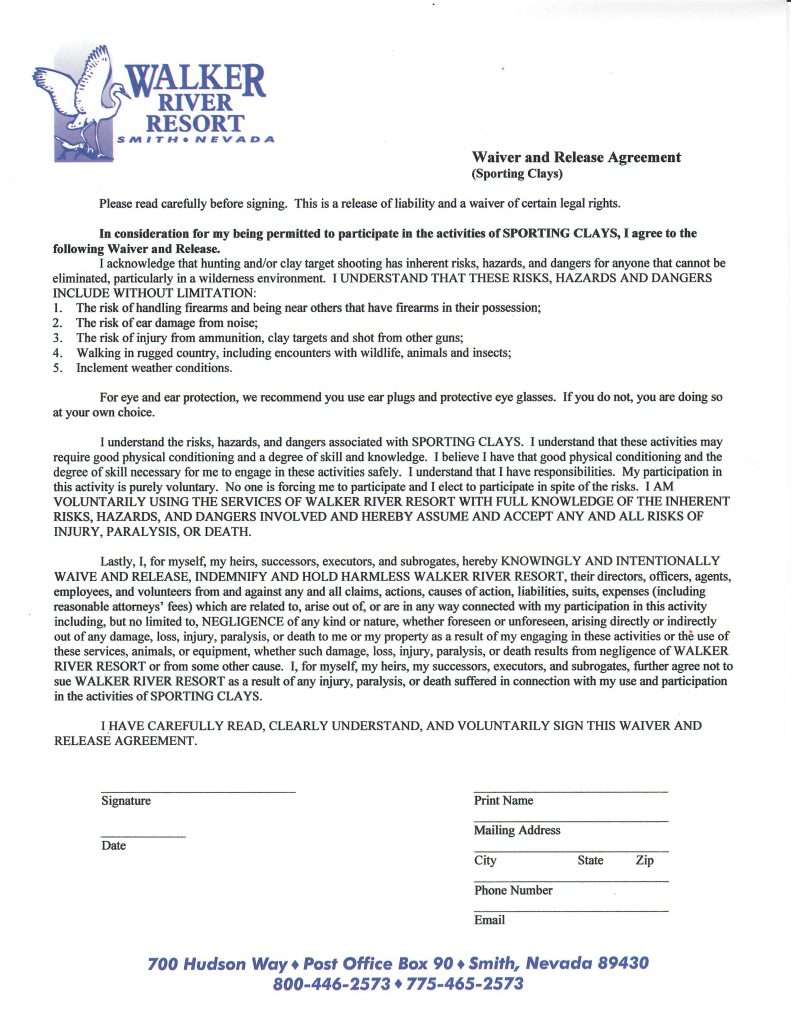 Map of the Sporting Clays Courses and Five Stand
Arrows Indicate shooting both Courses for a large group (70 – 100 Participants)

From time to time, Walker River Resort hosts large groups of S/C shooters. We can accommodate groups up to 100 guests all shooting at the same time. Groups can shoot up to 150 clays targets and sometimes more. If you have an event planned…we have the facility!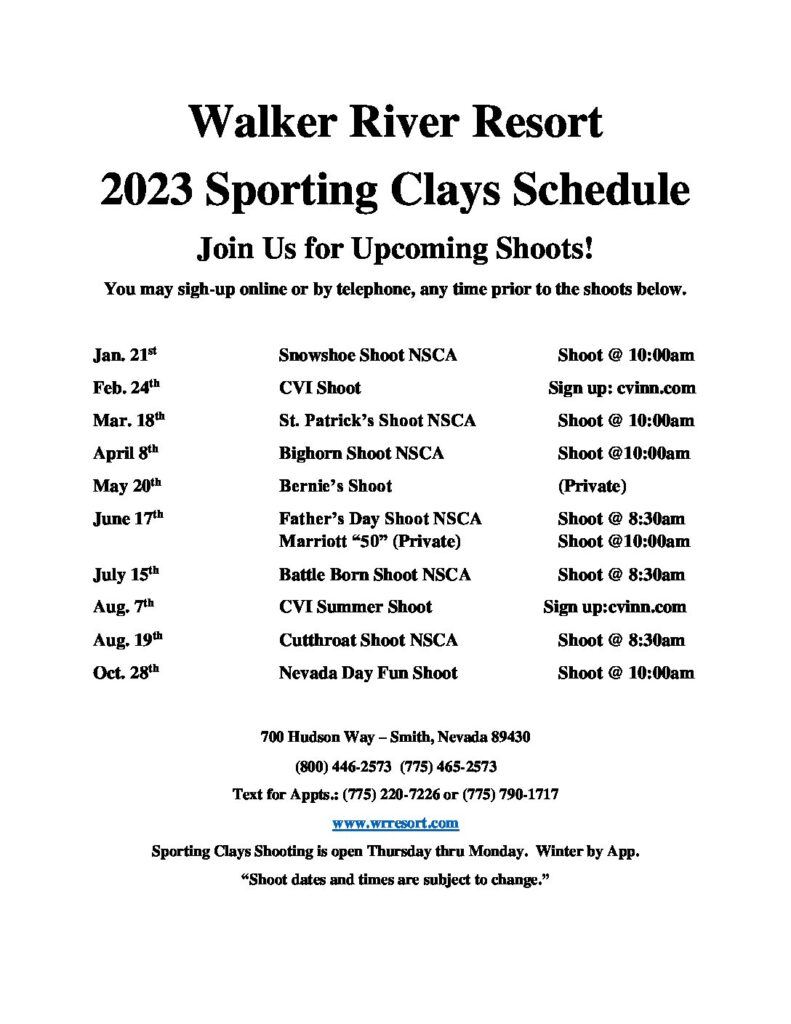 Sporting Clays Schedule 2023
Join your friends for a fun day outdoors
This is the shoot schedule for 2023. All the shoots require pre-squading and pre-payment. This can be accomplished through the website or by calling the office Thursdays – Mondays. Thank you and we look forward to a year full of great shoots! Please check back for any updates or changes.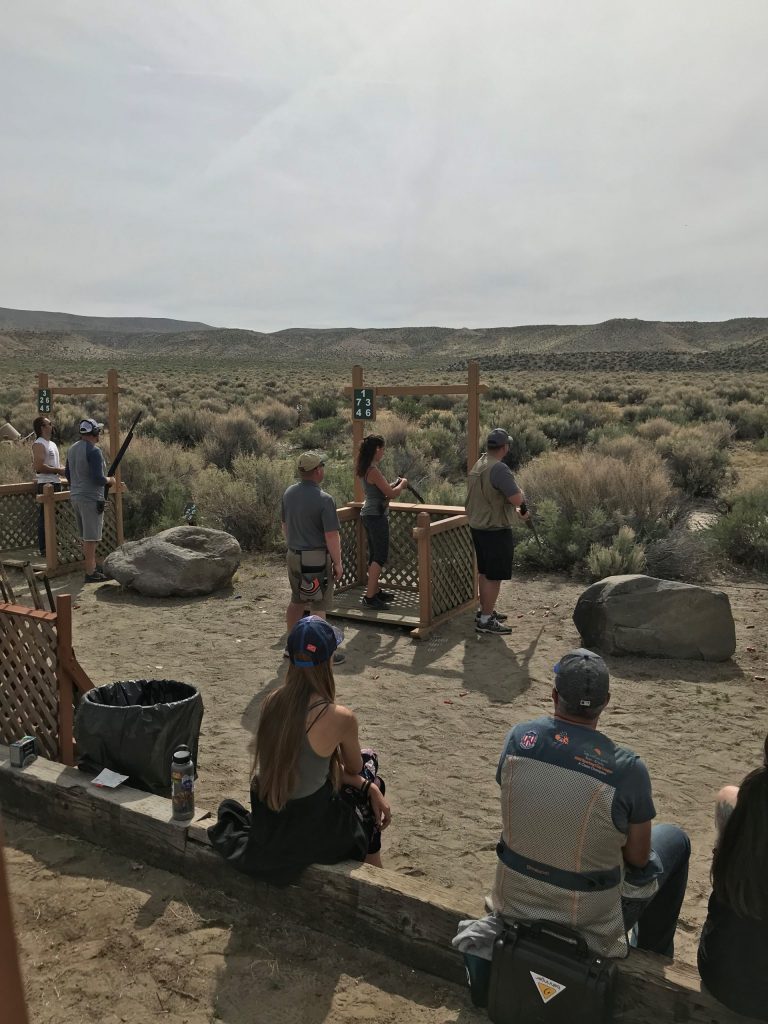 Shoot Guidelines for Clay Shooting
Eye and ear protection is mandatory for all shooters and spectators.
Waivers are required for each shooter and spectator before going out to shoot or watch.
Guns must remain unloaded with action open at all times, except when the shooter is getting ready to call for targets. Only 12 gauge, 20 gauge and smaller bore shotguns are allowed. No rifles or pistols allowed.
View pairs are not allowed at each station unless you are shooting 100 targets for each squad member. Broken targets may be thrown as a new pair. Please keep track of broken or no targets.
Each squad will be given a counter which will be reconciled at the end of your shoot. Targets thrown will be tabulated at .45 a clay. Broken targets will not be charged.
Stay with your squad throughout your shoot, and return to the office promptly after you finish your last station. Turn in your counter to the office.
All vehicles must stay on the existing roads. OHV's may be driven to the area but must travel under 25 mph on the dirt roads.
No alcohol may be consumed while out on the clay courses.
Please pick up empty shells (hulls) on the ground and dispose of them in the buckets provided.
Scorecards may kept by each squad or shooter.
Shoot Results 2023
We Return to a Full Shooting Year!

Every year, Walker River Resort Sporting Clays hosts a series of shoots. Some of the clay targets are "registered" through the National Sporting Clays Association. Other shoots are "Fun Day" shoots which can include shooters of all skill levels. Everyone enjoys shooting sporting clays at Walker River Resort.